Hello Everyone!
I hope you are enjoying this classic Michigan spring weather. I also sincerely hope everyone is staying healthy while finding ways to balance safety and social opportunities as we continue to negotiate the changing landscape of the pandemic.
This month, I'd like to share with you a little bit about the people that make Faith In Action hum. Our staff of five are the organizational core in planning and implementing the mission. This includes: me as Director; Sarah Shugart, Associate Director; Doug Smith, Social Worker; Miranda Salazar, Social Worker; and Tracy Dickinson, part-time Benefits Manager/Administrative Assistant.
Beyond the staff, our volunteers are the heart and soul of Faith in Action. These dedicated folks are essential in carrying out our mission of alleviating the effects of poverty in the area each day. Under normal circumstances, we have a team of around 70 volunteers who organize food, fill orders, coordinate food drives, answer the phone, and many other activities.
The larger entity that keeps the whole machine fueled is our Board of Directors. While working mostly behind the scenes, the Board is largely responsible for maintaining the infrastructure and broad financial oversight of our organization. While no specific skill set is required to sit on the Board, many members have professional experience in communications, finance, strategic planning, real estate, law, education, community engagement, and life in general. The only real requirement is to exhibit a passion for serving our community.
In addition to attending the monthly board meetings, where decisions are approved or disapproved and pertinent issues are discussed, board members also serve on committees that best match their passion and expertise. Committees at FIA include Communication, Marketing, and Branding, Finance, Human Resources, Technology, and Donor Development. Terms for board members are three years with a two-term limit.
Current Faith In Action board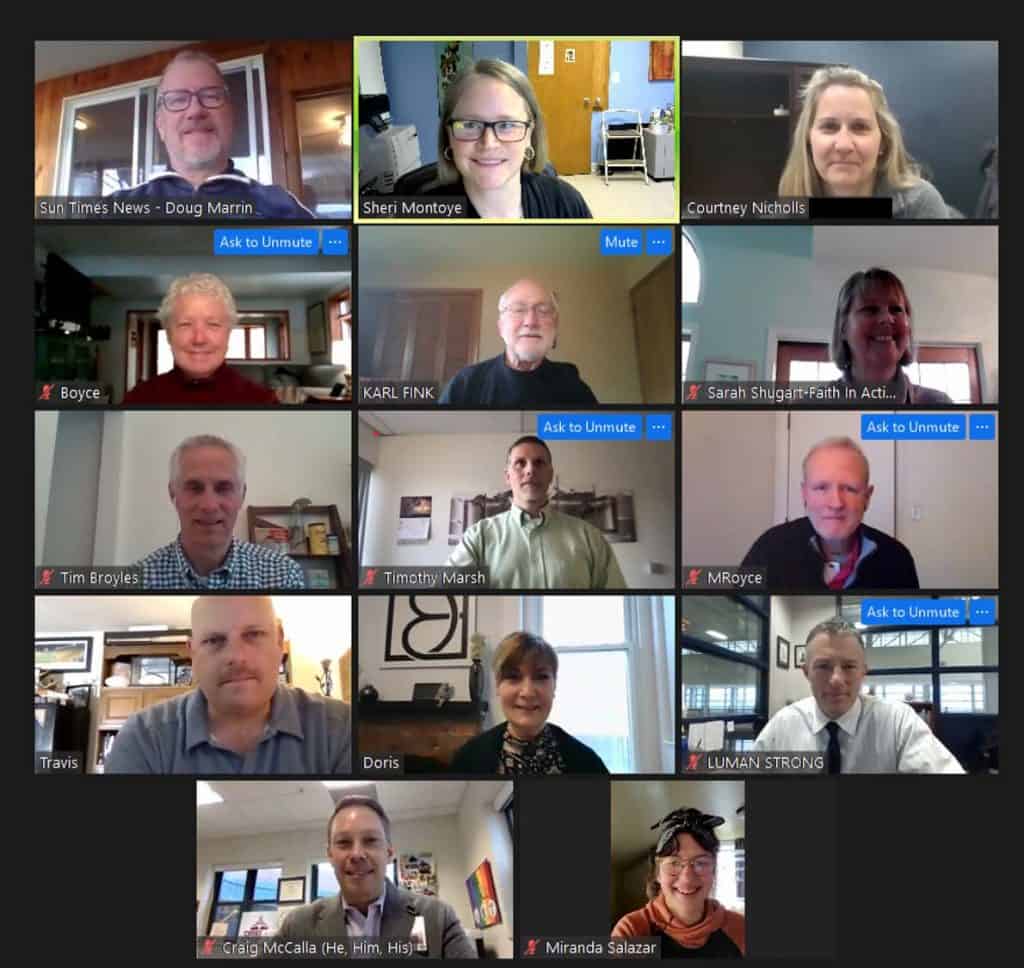 Members are:
Courtney Nicholls – President
Doris Galvin- Vice President
Travis Otto – Secretary
Mark Royce – Treasurer
Jane Boyce, Craig McCalla, Tim Broyles, Karl Fink, Kate Hoffman, Doug Marrin, Tim Marsh, Autumn Orta, and Luman Strong.
We are always looking for future board members as at least a few terms end each fall. If you are interested in serving as a future board member or serving on a committee right now, we would like to hear from you. Please reach out to any of the current board members or staff, or myself (sherimontoye@faithinaction1.org or 734-475-3305) and we would be glad to tell you more about board membership!
Thank you to all of you for your support of Faith In Action.