Financial Support
Your tax deductible financial gift is crucial to the ongoing operations and daily programs of Faith In Action which serves Chelse, Dexter and the surrounding areas. We are the largest human services organization in western Washtenaw county. Donations can be made by Paypal at the link below (No PayPal account needed!) or by mailed check at the address below, or at our after-hours drop box located near the front door of our building. All donations will be acknowledged with a mailed or emailed letter receipt appropriate for tax purposes. Please consider adding your email to your donation, or to our e-newsletter link on the website for future updates.
Donations can be mailed to or dropped off at:
Faith in Action
603 S. Main St.
Chelsea, MI 48118
Food and Grocery Donations
Volunteers evaluate pantry supplies weekly. To learn which items are most needed, see our current list of food pantry needs below, or call (734) 475-3305. Anything you need at your house is usually helpful at the pantry!
How to Donate Food and Grocery Items: Non-perishable items can be dropped off anytime DURING business hours right by the front door. For perishable items, or things that need refrigeration or freezer space, please let us know so we can confirm available storage space.
Our Top 10 Needs for November 2023:
Baking Items
Coffee/Tea/Drink Mix
Toilet Paper/Paper Towel
Chef Boyardee/Manwich
Spaghetti Sauce
Canned Soup
Hamburger Helper
Shelf Stable Juice
Snack Items
Cereal/Oatmeal
Cleaning products and personal products are always needed.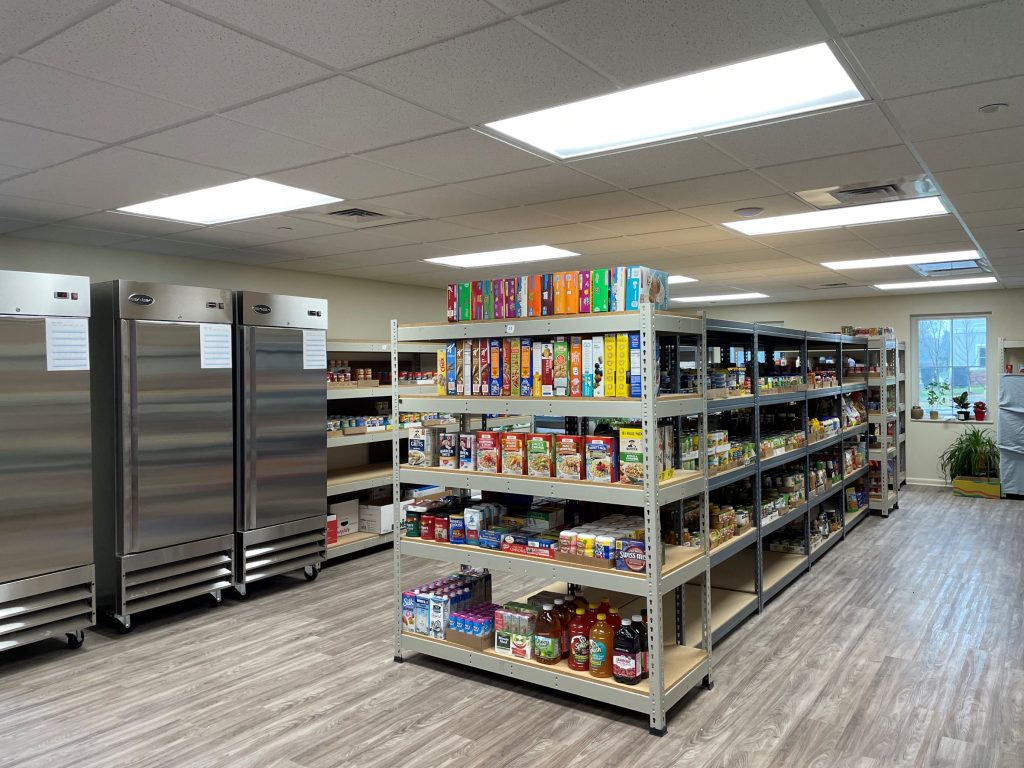 Clothing and Household Items
CALL FIRST TO MAKE SURE WE CAN TAKE YOUR ITEMS: (734) 475-3305
Sometimes our storage closet is simply too full!
Donations are not accepted during the month of December as we use all available building space to coordinate any Holiday programming. Please save your gently used clothing and household items until early January!
See our Contact Us page for drop off hours.
Tax receipts for Clothing Room donations will be provided upon request. While we are unable to provide pick up, volunteers are on site to help unload at the front door or east door of the main level.
We accept:
The following clothing and household items are generally accepted:
Seasonal clothing for all ages (warm weather clothing from late March-August, cold weather clothing from September-March).
Sheets, blankets, towels
Shoes, boots, slippers
Kitchen: dishes, pots, and pans, utensils, silverware
Small appliances: toasters, blenders, small microwaves or toaster ovens
General household supplies
Toys, games, bikes
Baby equipment
Durable medical equipment (wheelchairs, crutches, canes, bath benches, bedside commodes, walkers)
We DO NOT Accept
Electronic equipment, typewriters, building materials, large sports equipment, computers, old cell phones, out of season clothing, curtain rods.
Medication, medical supplies like tubing, bandages, diabetes testing items, orthopedic appliances (boots), or CPAP machines.
Durable Medical Equipment
Faith in Action maintains a lending closet of durable medical equipment, including walkers, crutches, bedside commodes, bath benches, and various other items. Adult diapers (only tab-less pullup style) are also sometimes accepted.
We DO NOT Accept
Orthopedic appliances (such as sprain boots), CPAP machines, Oxygen supplies or advanced medical supplies, diabetes medicine or supplies, gauze pads, tubing, hospital beds, electric scooters, hospice supplies or medications CANNOT BE ACCEPTED.
Vehicles in working order
Vehicles in working order and with a clean title are accepted for donation. Titles are transferred to FIA then to local families needing transportation.
Bicycles in good condition may also be donated.
FIA DOES NOT ACCEPT furniture donations
Local agencies that accept donations for local support services:
Kiwanis West: Rummage Sale and Pick up: (734) 665-0450
Salvation Army: (734) 668-8353
Recycle Ann Arbor Reuse Reuse Center: (734) 662-6288
Ann Arbor ReStore: (734) 677-1558
Friends in Deed: (734) 484-4357
Thrift Shop of Ann Arbor: (734) 662-6771
St. Vincent de Paul: (734 761-1400